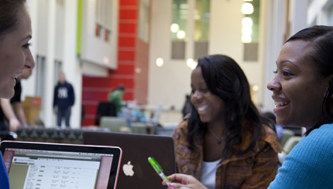 Fellowships, Scholarships, and Grants. This is money awarded by the school either on the basis of merit, special talent, or financial need. In general, these awards cover tuition, fees, and supplies, and may provide a stipend for living expenses.
Research and Teaching Assistantships. You will receive a salary, partial tuition, and possibly health insurance in return for service as a research or teaching assistant. You may be given basic research assignments. You may teach freshman composition. You proctor examinations. In addition to the financial benefits, you gain experience in your field which may be applicable to your thesis or coursework.
Internships. Your college or program may offer internships with businesses or government offices. Your professors may also have connections with organizations that need people in your field of study. Contact your department head or individual professors for additional information.
Employment. You might consider going to work for a university. Many schools discount tuition for full-time employees, and while it will take you a few extra years to complete the program, you won't have a huge debt burden when you're through.
HELP FROM FOUNDATIONS
National Research Council. Students in the Sciences, Social Sciences, Mathematics and Engineering may apply for Postdoctoral and Senior Research Awards through the Research Associateship Programs administered by the National Academies. For more information, contact Research Associateship Programs, The National Academies, 500 Fifth Street, NW, fifth floor, Washington, DC 20001; (202) 334-2760; Fax (202) 334-2759; 
www.nationalacademies.org.
Fulbright Scholars
. This extremely prestigious and competitive program allows award recipients to live and study abroad. For more information on this and other grants for graduate study in other countries, contact the Institute of International Education, US Student Programs, 809 UN?Plaza, New York, NY 10017; 
www.iie.org.
Additional Resources
The Council of Graduate Schools
National Association of Graduate and Professional Students
FinAid!: The SmartStudent Guide to Financial Aid
U.S. Department of Education
GoGrad.org
Simply Learn Tuition
Top Accredited Online MBA Programs Guide