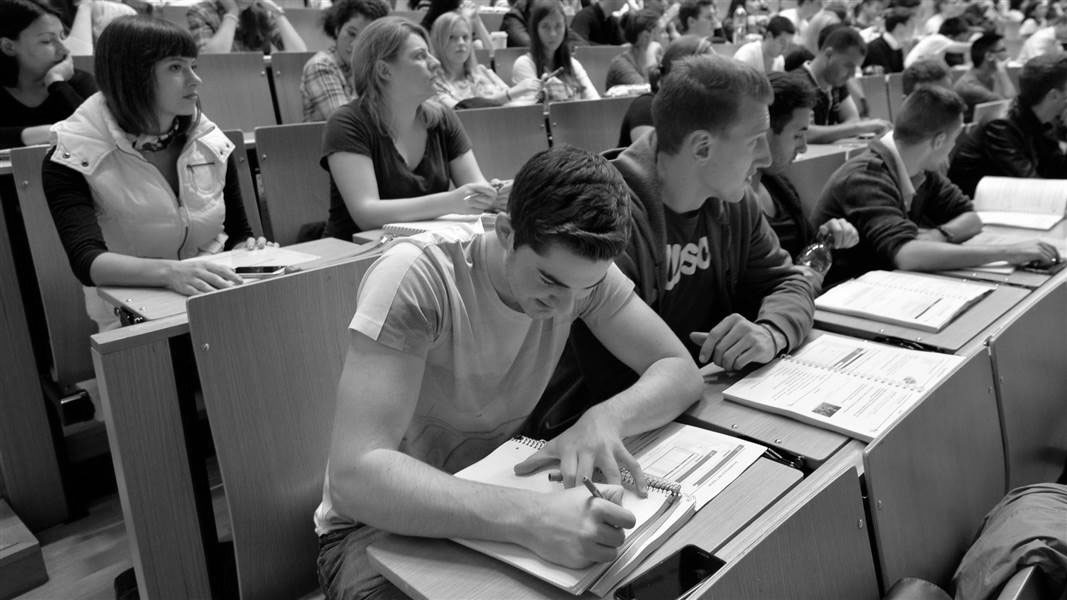 Graduate Record Examination (GRE) Graduate Management Admission Test (GMAT) Law School Admission Test (LSAT) The Praxis Series Test of English as a Foreign Language (TOEFL)  Test of Written English (TWE) Miller Analogies Test (MAT) Pharmacy College Admission Test (PCAT) Medical College Admission Test (MCAT) American Dental Association Dental Admission Testing Program (DAT) Optometry Admission Test (OAT)
---
GRADUATE RECORD EXAMINATION (GRE)
General Test given at computer-based test centers, year-round, six days a week (seven days at some centers). Paper-based General Tests are offered only in areas where a computer-based test center is unavailable. For additional information contact: Educational Testing Service-GRE PO Box 6000, Princeton, NJ 08541 866-473-4373, 609-771-7670 www.ets.org/gre Search for Graduate Schools
---
GRADUATE MANAGEMENT ADMISSION TEST (GMAT)
Computerized tests available at computer test centers year-round. Register online, or by phone, mail, or fax. For additional information including dates and test sites contact: Pearson VUE Attn: GMAT Program PO Box 581907, Minneapolis, MN 55458 800-717-GMAT (4628) or 952-681-3680. Fax: 952-681-3681 www.mba.com E-mail: GMATCandidateServicesAmerica@pearson.com

Search for Graduate Business Programs
---
LAW SCHOOL ADMISSION TEST (LSAT)
Saturday, February 3, 2018 (United States, Canada, and the Caribbean) (Spanish LSAT only) Saturday, February 10, 2018 (United States, Canada, and the Caribbean) (nondisclosed test) Monday, February 12, 2018 (United States, Canada, and the Caribbean) (Saturday Sabbath Observers only) Saturday, March 10, 2018 (Puerto Rico only) Monday, June 11, 2018 (United States, Canada, and the Caribbean) Monday, July 23, 2018 (United States, Canada, and the Caribbean) (nondisclosed test)

Application deadline: approximately 30-40 days prior to test date.

Law School Admission Council

662 Penn Street, Newtown, PA 18940 215-968-1001

www.lsac.org The Multistate Bar Examination The Multistate Bar Examination (MBE) is administered by participating jurisdictions on the last Wednesday in February and the last Wednesday in July of each year. www.ncbex.org/multistate-tests/mbe

Search for Law Programs
---
THE PRAXIS SERIES Teacher Licensure and Certification
Teacher Licensure and Certification
Computer-based tests given year-round at more than 200 test sites.
ETS - The Praxis Series
P.O. Box 6051, Princeton, NJ 08541
800-772-9476, 609-771-7395, TTY: 609-771-7714
Fax: 609-530-0581 or 609-771-7906
www.ets.org/praxis
Search for Graduate Education Programs
---
TEST OF ENGLISH AS A FOREIGN LANGUAGE (TOEFL) TOEFL iBT
Internet-based Testing (iBT) The new TOEFL test will be delivered via the Internet. Internet-based testing (iBT) allows ETS to capture speech and score responses in a standardized and fair manner. It will also make it possible to greatly expand test center access.
A complete schedule of test dates can be viewed online at www.ets.org/toefl. Tests are given almost every weekend.
TOEFL Services, Educational Testing Service
P.O. Box 6151, Princeton, NJ 08541, USA
877-863-3546, 609-771-7100, TTY: 609-771-7714
Fax: 610-290-8972
www.toefl.org
Search for Graduate English Programs
---
MILLER ANALOGIES TEST (MAT)
Visit www.milleranalogies.com for list of test centers, test dates, etc., or contact: Pearson MAT Customer Relations 19500 Bulverde Rd., San Antonio, TX 78259 800-622-3231 E-mail: MATscoring.services@pearson.com 210-339-8710 Fax: 888-211-8276
---
PHARMACY COLLEGE ADMISSION TEST (PCAT)
PCAT 2017 Testing Dates

July 18–19, 2017

September 7–8, 2017

January 3–4, 2018

October 23–31, 2017

November 1–3, 2017

Visit www.pcatweb.info for test centers, application, test dates, etc., or contact: Pearson PCAT Customer Relations 19500 Bulverde Rd., San Antonio, TX 78259 800-622-3231 E-mail: scoring.services@pearson.com Fax: 800-727-0811

Search for Graduate Pharmacy & Pharmacology Programs
---
MEDICAL COLLEGE ADMISSION TEST (MCAT)
Association of American Medical Colleges 2450 N Street, NW, Washington, DC 20037 202-828-0690 E-mail: mcat@aamc.org www.aamc.org/students/mcat Test dates for 2018 are:

April 6, 20, 21 May 5 , 18, 19, 24 June 1, 2, 16, 29, 30 July 7, 20, 21, 24 August 3, 4, 9, 10, 18, 31 September 1, 8, 18, 19

Search for Graduate Medicine Programs
---
AMERICAN DENTAL ASSOCIATION DENTAL ADMISSION TESTING PROGRAM (DAT)
Computer-administered tests available yearlong. American Dental Association - Department of Testing Services 211 E. Chicago Avenue, Suite 600 Chicago, IL 60611 800-232-1694 www.ada.org/dat.aspx Email: datexam@ada.org

Search for Graduate Dentistry Programs
---
OPTOMETRY ADMISSION TEST (OAT)
Association of Schools and Colleges of Optometry 211 E. Chicago Ave., Suite 600, Chicago, IL 60611 800-232-2159 Test dates may be scheduled any day Monday through Friday. www.opted.org Email: oatexam@ada.org

Search for Graduate Optometry Programs